---
Sofia Richie Fan is your newest fansource for anything on Sofia Richie! VIsit now and be sure to visit also the photogallery for all the latest Sofia's photos!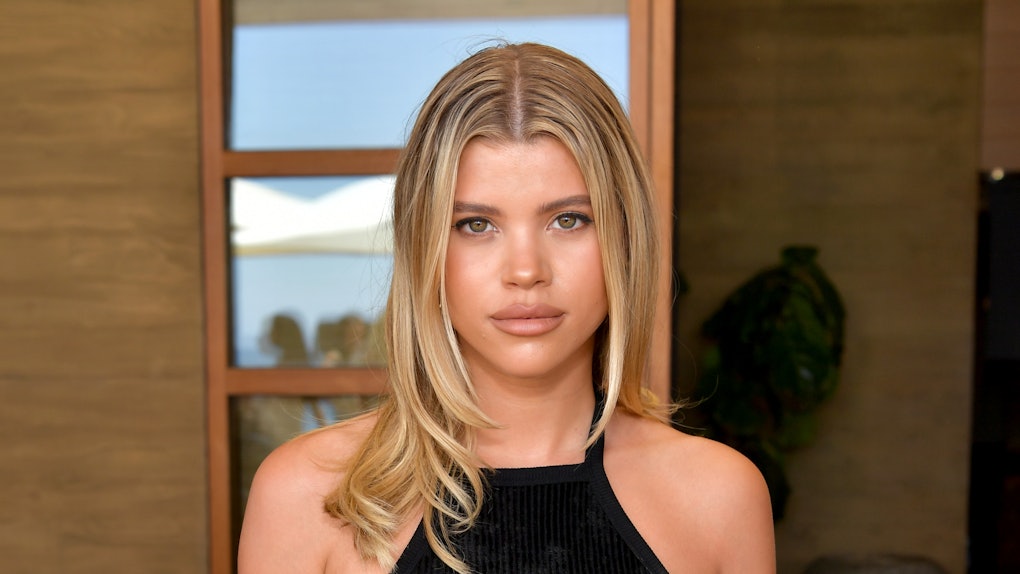 — Written by Admin on October 07, 2019 — Filed in Site Notes
---
Gwyneth Paltrow Under Fire for Nude Goop Photo
---
Gwyneth Paltrow is being hit with criticism.
The 46-year-old goop businesswoman is under fire for an image of a blonde nude woman posted to her brand's Instagram account on Wednesday (September 11). Followers of the brand were quick to criticize the woman's appearance on the social media platform, and were also confused about whether the woman was Gwyneth.
"Goop you get this wrong so often. Your insta posts are millennial white girls and now this unrealistic body image. For claiming to be about empowering women you need a reality check and get real. Please," wrote one fan.
"Such a superficial idealized image—really?" wrote another.
"Get some clothes on for goodness sake! No prizes for getting naked outdoors. What's this supposed to mean? I'm empowered so everyone can have a good look at my unclothed body? Not cool," added another follower.
Others defended the image: "Wow, this nude got quite a few people upset. Everyone, chill! It's a body. Just because it's not your size body, stop judging it! All your 'too thin' comments are a reflection of your own insecurities," one top comment reads.

— Written by Admin on September 13, 2019 — Filed in News & Gossips
---
---
Actress Gwyneth Paltrow out and about in New York on August 27, 2019. Click on the thumbnails below to see all the pictures added.

— Written by Admin on September 01, 2019 — Filed in Gallery Updates
---
Martha Stewart Doesn't Follow Goop, But Wishes Gwyneth Paltrow 'Good Luck'
---
It's getting hot in here — but it's not the weather.
Martha Stewart proved she still wasn't the biggest fan of Gwyneth Paltrow's lifestyle and wellness empire Goop when she addressed the actress' brand during an episode of "The Corp" podcast with Alex Rodriguez and Barstool Sports' Big Cat. The 78-year-old businesswoman threw shade when asked, "How would describe what Gwyneth Paltrow is doing today versus what Martha Stewart created years ago?"
"I don't follow Goop," Martha responded. "Sometimes I look at products that she's selling. I wish every young entrepreneur well and I hope that there are many, many, many different kinds of entrepreneurs, if they're movie stars or hard-working women like I am, who are not movie stars."
She added, "If they have a good idea, I want them to be able to succeed. So good luck, Gwyneth." But Martha's icy comments should come as no surprise — the domestic divas have had a rocky history for years. Back in 2013, Martha seemingly dissed the 46-year-old "Avengers: Endgame" star during an interview with Bloomberg TV. "She must be doing something right," she said. "She's a charming, pretty person who has a feeling for lifestyle. She wants to be a lifestyle arbiter. Fine. Good. I think I started this whole category of lifestyle."
She reiterated her stance in 2014 while chatting with Net-a-Porter about Gwyneth. "She just needs to be quiet. She's a movie star," Martha said. "If she were confident in her acting, she wouldn't be trying to be Martha Stewart."

— Written by Admin on August 28, 2019 — Filed in News & Gossips
---
Gwyneth Paltrow Brings Pop-Up Store to Nashville
---
Gwyneth Paltrow's lifestyle brand "goop" is opening a pop-up market in Nashville.
It's called goop MRKT and according to a Metro permit, it will be located at 2707 12th Ave. S in Nashville (across the street from Reese Witherspoon's Draper James), reports Nashville Post. The pop-up market will open September 12 to November 17, 2019.
Goop operates three permanent store locations for goop- London, New York, and Los Angeles. Inside the stores, you will find an array of products for health, beauty, kitchen, jewelry, books, and accessories. No further information is available about the pop-up market. You can purchase a selection of goop products at White's Mercantile locations in Nashville and Franklin.

— Written by Admin on August 20, 2019 — Filed in News & Gossips
---
---
I've added 3 The Politician promotional posters and a new photoshoot featured the entire cast. Click on the thumbnails below to see all the pictures added.
The Politician Promotional Posters
Ruven Afanador Shoot (The Hollywood Reporter)

— Written by Admin on August 19, 2019 — Filed in Gallery Updates
---
---
The debut trailer for Ben Platt and Gwyneth Paltrow's new Netflix show, The Politician, is finally here!
Here's the synopsis: Payton Hobart (Platt), a wealthy student from Santa Barbara, California, has known since age seven that he's going to be the President of the United States. But first he'll have to navigate the most treacherous political landscape of all: Saint Sebastian High School. To get elected Student Body President, secure a spot at Harvard, and stay on his singular path to success, Payton will have to outsmart his ruthless classmates without sacrificing his own morality and carefully crafted image. Full of dark comedy and sly satire, Ryan Murphy's The Politician offers a rare glimpse into just what it takes to make a politician.
Jessica Lange, Zoey Deutch, Lucy Boynton, Julia Schlaepfer, Laura Dreyfuss, and more star in the show, set to debut on September 27, 2019. Check it out!

— Written by Admin on August 19, 2019 — Filed in Projects, Media Streams
---